HTPC for all
I've been writing posts about my experience with HTPCs since 2009 (
1
,
2
,
3
,
4
). To anyone that doesn't have one yet, get one. A 50"+ fancy LED TV panel is a waste without one. A HTPC lets you watch/pause/record live TV, watch DVD/Bluray movies, watch streaming iTunes/Hulu/Netflix content, watch downloaded videos in any format, listen to streaming music, surf the net and even play the occasional game or two. Struggling to do all this with other devices is just a waste of time and effort. A HTPC these days will set you back about $400, plus maybe another $100 for a good remote. That's still less than an iPad, and infinitely more useful for the whole family.
Suppliers know the value of these, and are trying to find the best way to milk you for all you're worth. Hence all the specialized offerings like Apple TV, Google TV, Samsung/Sony smart TVs, Boxee, etc. Don't fall for these though. There's a reason why they've all failed to achieve respectable market penetration, and that's because they suck. You need something that can run Windows 7 connected to your TV. Nothing else will do. This will give you the greatest flexibility to do everything listed above with the least amount of struggle or messing around.
So the only real question is, where do you get one from? You can build your own if that's your thing, but if you're looking for something small I would recommend against it. Achieving a sleek form factor with a custom build is difficult and expensive. You also need to consider if you want to play games on it or not (e.g. Call of Duty, Diablo 3, etc). If so, you'll need something with more power than a typical HTPC. Namely, you'll need something that supports standard-sized PCIe video-cards and standard-sized ATX power-supplies, which basically rules out any impressive form factor. The best you can get is something like
this
, although I would advise to just go for a standard ATX/mATX sized mini-tower or desktop PC.
If PC gaming on the HTPC is not a priority, you have many more options available. Something that runs Windows 7 and plays movies and TV doesn't need to be all that powerful, which means you can get away with very small builds. One of my favourite at the moment is the
Dell Inspiron Zino
.
This looks very similar to the Mac-Minis, but is a totally different beast. It can be configured with a Bluray drive, internal WiFi, discrete graphics, card reader and more. It's a very nice small form factor PC that's perfect for a HTPC.
Another favourite is the Zotac Mini-PCs, for example the
ZBOX AMD E-350
.
This thing is tiny, yet comes standard with a 1.6GHz dual-core E-350 APU (energy-efficient CPU with integrated graphics), Bluray drive, 2GB RAM, WiFi, etc. This thing may not play any 3d games very well, but should kick-ass as a HTPC. If I had to buy one today, this would most likely be it.
You'll also want a nice keyboard to control this from the comfort of your couch, and the best is probably still the
Logitech DiNovo Mini
.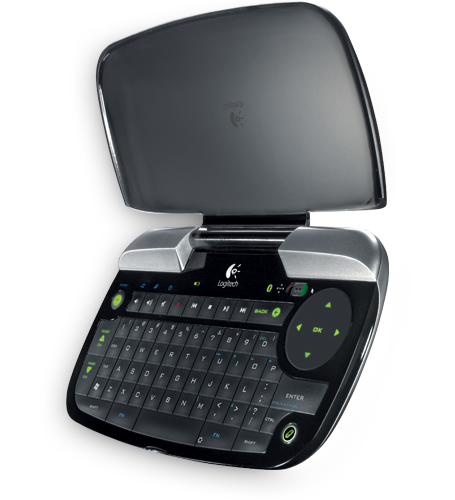 This is a bluetooth integrated keyboard and mouse (see the little trackpad in the top-right corner). You will not enjoy typing out a long email on this, but for general HTPC use it functions great, and looks fantastic.